Luxury Gulet Charter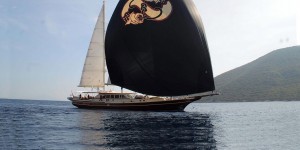 Luxury Gulet Charter
Luxury gulet charter categorized according to their size and construction values and classified in four major categories, Top of the line quality gulets are listed such as Ultra Delux, Delux, Lux, and Standard quality gulets.
Weekly charter prices depend on many issues as well as gulets age, construction price, Luxury amenities, water toys, and the professional crew that serves 24/7 with seamless attention onboard Luxury Gulet Charter.
The new generation gulets are mostly equipped with twin generators, watermakers, and air conditioners, not to mention the most advanced satellite tv so that you can watch hundreds of tv channels on board.
Twin generators provide an uninterrupted power supply of 12 Vdc, 24 Vdc, 220 vac, and even 380 vac. nowadays 3g internet wifi system allows you to keep in touch with your business and check your mails regularly while relaxing on board our utmost luxury gulet charter.
We don't charter gulets without airconditioners because July and August are pretty hot and it would be impossible to sleep without airconditioning.
Our portfolio of luxury gulet charter services offers unrivaled bluewater yachts charter holidays where you and your loved ones can discover the natural beauty and harmony between green Turkish coastline and turquoise waters in privacy and discreet confidentiality.
We have a well-earned reputation for organizing top-of-the-line quality yacht charter cruises for rich and famous people, royal families, VIP protocols, ministers, movie stars, and worldwide popular artists.
We are proud to serve clients with luxury gulet charter services strictly professional and make sure our VIP guests and their escorts or security staff are well taken care of during their holidays with exclusive gulets and Motoryachts with professional yacht crew and silver plate service.
Our luxury gulet charter is located in Southwestern Turkish riviera, either Bodrum, Marmaris, Fethiye, Antalya, or Istanbul no matter how urgent, how far, how exigent you are, we always have the perfect yacht and the crew to make your holiday an unforgettable one with our Luxury Gulet Charter services.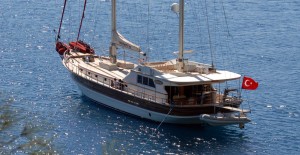 Luxury Gulet
We proudly announce our luxury gulet charter portfolio with newly built motor sailers or as we call them Turkish Gulets to offer you many different sizes and price ranges in Turkish riviera and the neighboring Greek islands.
Either family size or megayacht concept, whichever is more convenient for you and your loved ones, you name it we provide it for you. Our team of expert Gulet brokers is always ready, willing, and able to listen to you and entertain your inquiries. we offer the best possible price and charter conditions.
We feel privileged to serve many satisfied customers who became our friends for the rest of our lives and we would love to express our gratitude to every one of them for making us feel confident that we made it through all these years as a yacht captain, charter operator and as brokers for luxury blue voyage gulets Charter.
Please don't hesitate to call us in English, Spanish, French or Russian languages and let us propose the most suitable Gulet or motoryacht at the best possible price for either chartering and/or buying your ever dreamed yacht with us.
It's worth noting that a 15 cabin luxury gulet charter is one of the largest and most luxurious options available, with high-end finishes, state-of-the-art equipment, and top-notch service.
It's a perfect choice for large corporate events, family reunions, and group vacations, where guests want to spend quality time together while enjoying a luxurious sailing experience.
Lastly, a 15 cabin luxury gulet charter can be a unique and exclusive sailing experience, with all the comfort and luxury that a large group of guests could want.
With the extra space and amenities provided by a 15 cabin luxury gulet charter, the guests can enjoy a comfortable, luxurious, and stress-free sailing experience, in some of the most beautiful and exotic destinations in the world.