Yachts Charter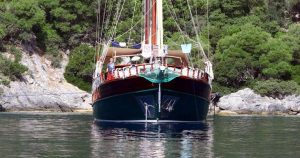 Yachts charter Turkey is the first country that invented the gulet. Not that far in the past, gulets were used for transferring passengers from the Mediterranean to the Aegean and vice versa. Yachts Charter
They were quite large in size and some were used for fishing before becoming yacht charter voyage.
Tourism flourished in Turkey in the 1980s, and the gulets' owners decided to modify their fishing large boats to serve luxurious purposes like cruising in the Mediterranean and the Aegean seas that both form an important part of the Turkish Riviera.
Yachts Charter

This is how your yacht charter started.
Nowadays, tourists from different parts of the world come annually to see the brilliancy of the Turkish Riviera on board of yacht charter Turkey.
Enjoy cruising in the Mediterranean in the company of our professional captains who have been ready to raise the anchor and go off in a wonderful cruising that you will never ever forget!!
In fact, we would like to invite you to have a look at our portfolio that has more than three thousand yachts and gulets that are quite luxurious and differing in pricing and designing to suit your own budget and your own taste as well. Motoryacht Charter

You can depend on our expertise to decide on your luxury yacht charter that you intend to cruise on board in your coming vacation.